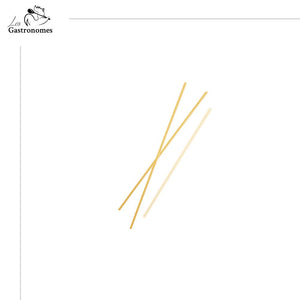 Linguine Il Cappelli Organic _ 500g
Regular price
Dhs. 24.50
Dhs. 0.00
Unit price
per
Tax included.
Shipping
calculated at checkout.
The carefully studied oval section of this shape magnifies the texture of Il Cappelli wheat, resulting in a seductive firmness that marries with the most delicate sauces.


Cooking Time: 8 minutes

Stemming from the genius of one of the greatest, yet mostly unknown Italian agronomists, who named it after Senator Raffaele Cappelli, this stubborn and generous wheat embodies the sun of the Murgia region and the veritable, genuine tastes of the bygone century. We combine it with the purest spring water from the Dolomites to create a pasta with a vigorous, wholehearted temperament that is truly Italian. Raw, its aroma is reminiscent of jute and licorice root. Cooked, it exudes the fragrances of fresh farm milk, mashed potatoes and roasted chestnuts. It has the toothsome and lively mouthfeel of buttery breadcrumbs, with an alluring final note of sea salt.


ENERGY:1566 KJ /370 Kcal

FAT:4g

CARBOHYDRATE:68g

FIBERS:3g

PROTEIN:14g

SALT:0.08g
Lesgastronomes.market operates differently then Lesgastronomes.ae
The Market site is open from Friday to Sunday (till 12PM) for next day deliveries.
Shipping Across the UAE! 
Delivery / Shipment Policy 
It is important to keep in mind that our products are sensitive and need to be manipulated cautiously therefore we limit to the maximum the manipulations of our products.
Les Gastronomes will NOT deal or provide any services or products to any of OFAC (Office of Foreign Assets Control) sanctions countries in accordance with the law of UAE". 
Multiple shipments/delivery may result in multiple postings to the cardholder's monthly statement.
---