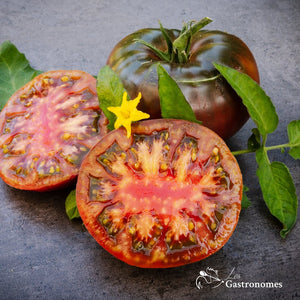 Premium French Black Crimean tomatoes - 1Kg
Regular price
Dhs. 65.00
Sale price
Dhs. 75.00
Unit price
per
Tax included.
Shipping
calculated at checkout.
Indulge in the extraordinary flavors of French Black Crimean Tomatoes. Grown in France's nutrient-rich soil, these heirloom tomatoes are an exquisite delight. Their dark, velvety exterior and juicy, meaty interior will tantalize taste buds and captivate your senses. Renowned for their delicious complexity, these tomatoes offer a perfect union of sweetness and tartness. Subtle smoky undertones lend a unique flavor which makes them a superb addition to salads, Mediterranean dishes, and sauces. Let French Black Crimean Tomatoes elevate your recipes with their incomparable taste!
Lesgastronomes.market operates differently then Lesgastronomes.ae
The Market site is open from Friday to Sunday (till 12PM) for next day deliveries.
Shipping Across the UAE! 
Delivery / Shipment Policy 
It is important to keep in mind that our products are sensitive and need to be manipulated cautiously therefore we limit to the maximum the manipulations of our products.
Les Gastronomes will NOT deal or provide any services or products to any of OFAC (Office of Foreign Assets Control) sanctions countries in accordance with the law of UAE". 
Multiple shipments/delivery may result in multiple postings to the cardholder's monthly statement.
---