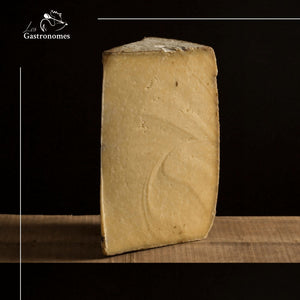 Salat Tradition - Salers
Regular price
Dhs. 105.00
Dhs. 0.00
Unit price
per
Tax included.
Shipping
calculated at checkout.
Product sold individually

The Salers cow is one of the oldest breeds in Auvergne. Its milk is exceptional, rich, aromatic and particularly suited to cheese production. Known for her strong maternal character, she refuses to give her milk without the presence of her calf on her leg.
The 120 cows in Charlotte's herd graze from April to November on 350 hectares and graze the very rich grass of the Massif Central. Charlotte makes 2 tommes a day. A single Tomme de Salers weighs 40kg.

In natural cellars that do not require a refrigerator, the barely milked milk is poured into large chestnut wood barrels, which gives the volume. In the evening, the 40 kilo tome de Salers came out of the press, crumbled, and salted. It will then be returned every 48 hours for 5 to 8 months. Charlotte SALAT controls the entire production chain for her cheeses, from cow feed to ripening.
Lesgastronomes.market operates differently then Lesgastronomes.ae
The Market site is open from Friday to Sunday (till 12PM) for next day deliveries.
Shipping Across the UAE! 
Delivery / Shipment Policy 
It is important to keep in mind that our products are sensitive and need to be manipulated cautiously therefore we limit to the maximum the manipulations of our products.
Les Gastronomes will NOT deal or provide any services or products to any of OFAC (Office of Foreign Assets Control) sanctions countries in accordance with the law of UAE". 
Multiple shipments/delivery may result in multiple postings to the cardholder's monthly statement.
---